Here's why it's important.
An effective PM plan can save your organization millions of dollars in unscheduled downtime, labor hours and lost revenue. Here are some key stats about preventive maintenance:
Important considerations for your PM plan
Preventive maintenance is a strategy, and each asset needs its own maintenance plan. Timing scheduled maintenance at the right intervals is the key to achieving the maximum return on investment.
How often does this piece of equipment need maintenance? Once a day/week/month/year?
Do certain parts need a higher/lower frequency of maintenance? For example, the knife heads on a meat emulsifier must be checked daily, while the perforated plates need only be changed once a month.
PRO TIP:

The simplest way to calculate ROI for putting an asset on a PM plan is to determine the dollar amount you would save annually for each asset.

List every maintenance task you expect to perform, the frequency of each task and compare this with the cost of equipment failure (use a cost per minute calculator or check your data).
Need more help with maintenance management?
See the latest from our blog
When is the right time to use preventive maintenance?
Preventive maintenance is a long-term strategy that requires planning, monitoring and adjusting. Use it only for for your most valuable assets where the following conditions apply:

When the cost of preventive maintenance is less than the cost of failure

When critical assets are expensive and difficult to repair or replace

When asset failure causes major revenue loss and/or a safety hazard
PRO TIP:

Don't pick equipment that is already nearing the end of its useful life or needs to be replaced.
2. Determine the timing/frequency of PM
Never randomize this. Use historical data from your maintenance logs to determine how frequently each individual asset needs maintenance. See what failures the asset experienced in the past and how often. Secondly, check the Original Equipment Manufacturer (OEM) recommendations. Most manufacturers provide a manual that contains schedules for necessary maintenance, basic maintenance work instructions and what tools or parts are required.
Inventory management is a key part of a PM plan. To ensure maintenance runs according to schedule, you'll need to stock all needed parts ahead of time and track inventory.
PRO TIP:

When scheduling PM, decide whether to do maintenance on the run (OTR) or during scheduled shutdown. Tasks that are disruptive and need to be done regularly should be scheduled during planned shutdowns, while simpler items can be completed during regular operations.
3. Create your initial PM plan
Enter the data into your maintenance planning tool or CMMS. Assign tasks to the right technicians, and include all necessary information in the work order, plus a priority and due date.
4. Monitor and adjust your PM strategy
Treat your data as a continuous feedback loop that tells you whether you're doing too much or too little PM on a particular asset. Focus on how much preventive work has been done on an asset and how many failures have occurred since you put it on a PM plan. If the number is zero, try increasing the intervals between maintenance or decreasing maintenance for certain parts.
Regular failures indicate a lack of PM. Before scheduling more PM, however, investigate what the breakdowns were and what caused them.
5. Expand your PM program
The goal of any pilot PM program is to expand it to other critical assets. Wait until you've collected enough data to prove the return on investment and then present your findings to management.
The preventive maintenance process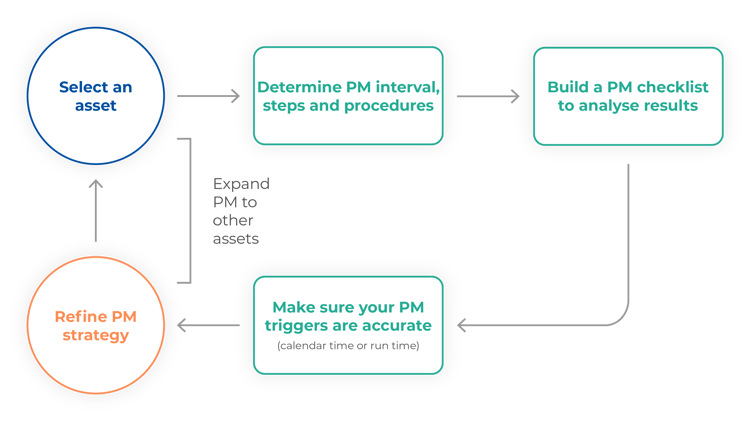 Advantages
Reduced revenue loss — Unscheduled downtime can cost millions of dollar per hour in lost revenue and sunk costs.

Less equipment downtime

— Proactive inventory management means less downtime to locate and replace missing parts.

Fewer interruptions to critical operations

— Scheduled shutdowns from planned maintenance (where necessary) cost far less than unplanned shutdowns.
Increased workplace safety and compliance with OSHA

Reduced insurance rates and electricity bills

— Well-maintained machines are safer to run and more energy-efficient.
Disadvantages
Requires an upfront investment

— Maintaining equipment that is functioning normally costs more in the short-term than waiting until it fails.

More labor-intensive

— More technician labor hours required for regular maintenance work.

Potential for over-maintenance

— Scheduling maintenance too frequently reduces ROI

Does not completely eradicate unplanned downtime

— Equipment breakdowns will occur far less often, but assets can still fail in between maintenance intervals.
Types of preventive maintenance
1. Calendar - or time - based maintenance
A recurring work order is scheduled for when a specified time interval is reached in the CMMS. Best for equipment that is used continuously and is prone to unexpected breakdowns.
2. Usage-based maintenance
Maintenance is automatically scheduled when a certain meter reading is logged in the CMMS (eg: an oil change for every 5,000 miles driven). Best for equipment that needs maintenance on a regular schedule.
3. Predictive maintenance
Maintenance managers schedule maintenance based on historical data that can be used to predict when an asset will fail (often with the help of machine learning software).
How a CMMS can help with preventive maintenance

1. Streamline the reporting process
A CMMS provides a fast and easy way to aggregate and organize your historical work order data so you can track the success (or otherwise!) of your PM plan.
Reports allow you to see how frequently an asset is maintained, how much it costs, and how much money is saved by using preventive maintenance. With all your data stored in one place, you can effectively manage work orders, purchase orders, inventory and maintenance records — all of which are required for a successful preventive maintenance program.

2. Optimize the workflow
Create a set of standard maintenance procedures technicians can follow when dealing with complex assets. CMMS features help facilitate this process by providing quick access to maintenance logs for every asset, a spare parts management system that helps control inventory so you never run out of replacement parts and centralized information about each asset (OEM recommendations, fault patterns and maintenance procedures).

3. Manage scheduling
A CMMS automatically provides notifications to all concerned parties when a scheduled maintenance task is due. Using Micromain's mobile technician app, maintenance workers can view information about the work order and provide status updates while working onsite or remotely.
A CMMS gives you insight into the following information:
List of active preventive maintenance tasks

Which technicians are assigned to cover which tasks
Associated expenses for each task (eg: labor hours and parts)
Conclusion
Preventive maintenance helps organizations avoid costly downtime and unsafe working conditions while lengthening the useful life of assets. However, PM constitutes a significant investment, and the key to achieving the highest ROI is applying it judiciously to the assets that need it most and at the optimal maintenance frequency. Over- or under-maintaining assets is no better than letting assets run to failure.
An effective maintenance strategy should also include corrective and reactive maintenance for non-critical assets, and there is no better way of implementing the right maintenance strategy than with a CMMS.